Description
Product Description
We recommend servicing your valve every 3 years, or 20,000 miles, whichever comes sooner
A blow off or recirculation valve (be it piston, diaphragm or OEM) will be activated by vacuum or electricity, and is designed to improve the drivability of your vehicle giving you maximum power when you want it. All types rely on an internal spring in order to maintain a seal so that you have boost pressure when it is needed - If the spring is too weak, you lose power.
Previously, when an engine was "chipped" or the boost pressure increased, the tuner would need to fit a stronger spring, carefully matched to the increased boost. More recently, with the introduction of electric valves, a tuner would fit an aftermarket replacement valve driven by pressure with an uprated spring. All these remedies rely on the careful matching of the spring rate to the turbocharger boost. This would need to be done each time there was a software, and in some cases hardware change.
For those running switchable software programs, there was no perfect solution and a compromise spring was normally installed, which would often not perform correctly.
Forge are pleased to offer a fit and forget solution. No more changing springs, turning adjusters, or fine tuning. This innovation works straight out the box and will work perfectly on a standard engine, a highly tuned engine, and anywhere in between, without the need to change anything! The IPCV (Intake Pressure Compensation Valve) does it all by itself, ensuring that you always get the maximum power and perfect drivability.
"I've done a lot of mods to my R57 MCS , from a big turbo to methanol injection .. but nothing has made such a dramatic change to the throttle response & drivability than the IPCV...I strongly urge anyone looking for instantaneous boost from low-high range to purchase this product immediately."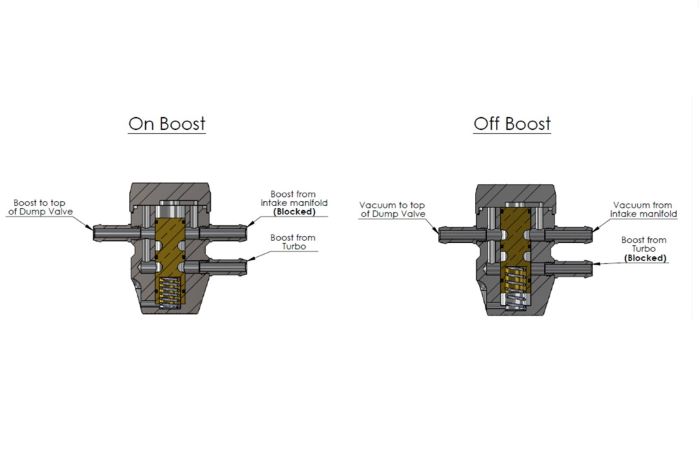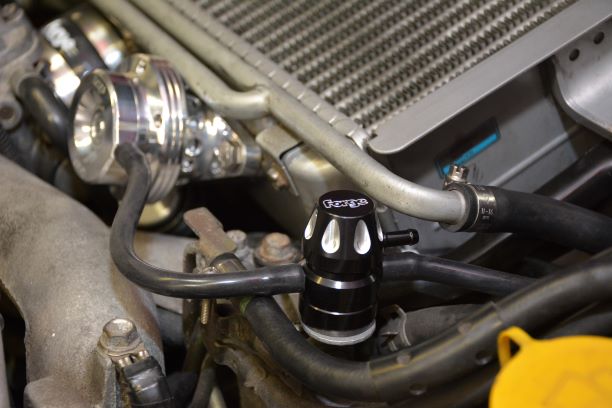 In The Box:
1 x FMIPCV Valve
1 x 2000mm Length of 5mm Vacuum Hose
1 x Flat Bracket
1 x Bent Bracket
1 x 5mm Brass T Piece
1 x 6mm Brass T Piece
1 x 6mm Brass Joiner
1 x M6 Penny Washer
1 x M8 Penny Washer
3 x Alternative Vacuum Ports
2 x M4 x 6 Socket Cap Screws
1 x Instructions
1 x Forge Sticker
Forge Motorsport's Intake Pressure Compensation Valve (IPCV) – an idea so ingenious, that we have patented it!
Please note that the FMIPCV valve is a universal part and model specific instructions are not available. Installation typically requires above average DIY skills, or fitment by a suitably qualified mechanic.
Enquire by email if you would like the pressure compensation valve fitted at the Forge Motorsport branch in Gloucester.
Check your vehicle compatibility: Click here
Please Note:

In line with our policy to constantly review, revise, and improve our product range, the appearance of the product you receive may differ from the one advertised.
Product Reviews
Product Reviews
from on
Feb 23rd 2018
Bought it and was a bit dubious about it. Fitted it and never felt any difference at all, until a few days ago i was fitting a new dump valve and noticed i had it plumbed wrong, so replumbed it and whoa. The difference is awesome. The car pulls so much stronger through all the gears

from on
Jan 1st 2018
The needed valve to manage the dump valve perfectly...

After 2000km I can say this compensation valve should be mandatory, no more spring adjustment, the dump valve works with no leaks at boost and release is quicker !
from on
Dec 29th 2017
well what can i say fantastic fitted this today totally different car to drive very responsive and instant boost release delighted with the valve
from on
Dec 28th 2017
well just got the valve looks quality ordered on the 22nd dec arrived on the 28th dec fantastic
from on
Oct 26th 2017
Nice add for a dv008, it seems to reduce the response time for a long turbo circuit.

High price but high quality I would say, it should be packaged as option with dvs !
Want to leave a review?

Login Register FREE!
Compatible Vehicles
Instructions
Intake Pressure Compensation Valve
Warranty
Warranty Infomation
The majority of Forge Motorsport products come with a limited lifetime warranty (brakes pads excluded). All warranty claims must be accompanied by the original proof of purchase to enable us to help you. Failure to supply this proof will result in your claim or enquiry being denied.
For further information, please call our customer service team on +44(0)1452 380999 or email info@forgemotorsport.co.uk.
Do not use aggressive (acidic) car cleaning products, particularly traffic film remover solutions or shampoos to clean your intercooler, radiator, or oil cooler. The use of these products can damage Forge Motorsport cooling systems and invalidate your warranty. These are often found at car washes. A light, warm, soapy solution (free of harsh acidic cleaning compounds) should be used to clean you cooler and thoroughly rinsed away. We recommend that you should inspect your product on a regular basis for bent and/or crushed fins. Any bent fins should be carefully straightened to allow ambient air to pass through the core face. At the time of installing your Forge radiator, an approved coolant must be used and added to the coolant system. Be sure you never mix coolant and always use distilled water.
This warranty does not apply to any defect in the goods arising from fair wear and tear, wilful damage, accident, negligence by you or any third party, use otherwise than as recommended by the supplier, failure to follow the supplier's instructions, or any alteration or repair carried out without the supplier's approval.
Shipping
Shipping
UK Mainland
Next day delivery applies to orders processed before 2pm Monday to Friday, subject to stock availability and geographical restrictions. 'Next day' refers to next working day. We cannot guarantee next day delivery for orders placed after this time. Full details
Delivery is free of charge for all orders £20 or over. Products are sent by standard DPD service which is usually a next day service, but can take 2 days in transit. We reserve the right to ship smaller, lower value items via Royal Mail or any other service. (Not including Scottish Highlands, Scottish Isles, Northern Ireland, Guernsey, Jersey, and Isle of Man where charges will vary).
Europe and Worldwide
Delivery service charges will vary depending on the quantity of product ordered, the related parcel size, and destination postcode. Live shipping rates will be calculated at checkout using ShippyPro and dependent on criteria, you will be given the option of DHL, DPD, or FedEx courier services.
Shipping into the EU - Duty Charge Information
All Forge products are sold with a Delivery Duty Unpaid (DDU) status and an import tariff may apply to your order. Customers will be contacted by the Customs and Excise authority in the destination country regarding payment prior to delivery, and it is important that correct contact telephone number and email information be submitted with the order to facilitate this part of the delivery process. Some couriers are charging an admin fee for shipping into the EU.
If we detect at checkout that you are located within the European Union (EU), you are eligible for a contribution towards your import duty and tax payments. We can add an additional 20% on the total cost of your order, we will then pay the duty and tax costs above your contribution. This offer will ensure the price you pay at checkout is the total you pay, with no additional charges. It will also ensure you have the fastest possible delivery, with no delays. For more information, please see here

Our shipping methods ensure safe and timely delivery of your new Forge products. For further information on cost and delivery times, please contact Forge using the info@forgemotorsport.co.uk email address if you require any more information. We reserve the right to change the delivery service and company at any time.
Forge Motorsport ships via either UPS, FedEx, DHL (primarily for outside of UK), DPD (primarily for UK), or any other courier we chose. Other shipping options may be available for an additional fee over and above the actual shipping costs. Once a product has left our warehouse and is in the possession of the shipping company, any claims must be made directly with that shipper however we can assist with most cases.
Associated Products