By: Jimbo Wallace
The Korean invasion has begun, and we simply won't be able to hold it back if they keep making cars as good as the Hyundai i30N and the Kia Stinger V6. Like it or not, not all hot hatches are made by the German's, Hyundai even poached the former design chief of M-Sport to make the i30N, so it will come as little surprise that the plucky Korean upstart took to the top tier of the hot hatch ladder as soon as it landed in the UK. So, Forge jumped onboard immediately and starting R+D-ing the perfect range of upgrades to take the hot hatch and transform it into more of a hyper hatch. Here's our top products to make your Hyundai a true GTI, maybe even an R slayer, in the right hands.
1. i30N Induction Kit - FMINDK28
20hp. Yes, you read that right. 20hp! That's what the latest induction kit from Forge could unleash from the 2.0T-GDi engine. Already knocking out either 249 or 275hp (depending upon spec) from the factory, it's possible to improve air flow into the turbo drastically with this kit. The 102mm mandrel bent inlet pipe and a surface area increase of 60% from the Pipercross free-flowing foam filter ensures that power and torque increases are assured throughout the rev range. In fact, surprisingly, when we ran our cat back exhaust equipped car on the Litchfield dyno, the car made monster improvements to net 296hp and 310ft.lbs of torque. We're sure you'll agree, that's none to shabby for little more than an intake filter and a cat back system. Available with red, blue or black silicone hoses to perfectly complement the powder-coated black finish of the inlet pipe, this is one kit offering bang per buck that few others can hope to match.
2. i30N Big Brake Kit - FMBKI30N
No fast car is complete without powerful brakes to add some whoa to the go. Consider that you spend roughly 70% - 80% of your time turning or braking on most circuits and effective brakes with decent suspension become statistically 'faster' and more useful than adding more power. The Hyundai i30N big brake kit from Forge offers our tried and tested six piston calipers with 356mm x 32m ventilated discs, so they'll squeeze onto most cars running 18-inch+ wheels. Slotted, two-piece bell and rotor discs are supported by EBC Yellowstuff pads for the ultimate retardation. Leave that apex as late as you like before you stomp on the middle pedal thanks to Forge, and make sure your performance also matches the aesthetic upgrade that this disc and caliper kit promises. Hosetechnik braided hoses are also included to enhance pedal feel further still and virtually eliminate brake fade no matter how hard you pedal your rapid Hyundai
3. Hyundai i30N/Veloster N - Turbo Inlet Adaptor FMTIA2
An uprated turbo intake pipe with a larger diameter (102mm) hose to eek every last drop of performance from any i30N or Veloster. This silicone intake pipe and all billet inlet adapter is only compatible with the Forge i30N / Veloster specific induction kit (FMINDK28), it will not work with a standard intake setup. So, what can you expect from this nifty bit of pipework that offers a 150% increase in capacity when paired with our induction kit over stock? In a nutshell, a rather startling performance increase. Just taking the turbo inlet pipe into account we saw a 10hp gain on a MAHA independent dyno. Casting aside the restrictive aluminium intake pipe really nets some impressive results after any i30N / Velostar is taken to stage 1 or 2 ECU levels of tweaking. Messing with the binary within the onboard computer makes this Intake Pipe a mandatory modification, and like all Forge products it also comes with a no quibble lifetime guarantee for ultimate peace of mind.
So, if you seek a noticeable increase in both power and torque from as little as 3000rpm, the 4" Forge intake pipe should be on every aspiring GTI and R hunter's shopping list. Consider it part of a step-by-step plan to extract what Hyundai probably wanted to in the first place, but legislation probably prevented them doing so. As is standard across all Forge products, there will also be no EML lights on the dash when you fit one of our products.
4. Short Shift Kit - FMSS3
Sharpen up that gearshift and make the act of swapping cogs even more tactile and engaging courtesy of Forge. This simple duo of bracket revisions brings with it the benefit of leverage to reduce the throw across the gate of the six-speed 'box. The horizonal and vertical travel between gears can be set to standard or reduced by any amount up to approximately 50%. Powdercoated in stealth black to ensure OEM good looks on top of the gearbox this is one of the most effective, easily reversible upgrades you can make to the i30N. Cheap too.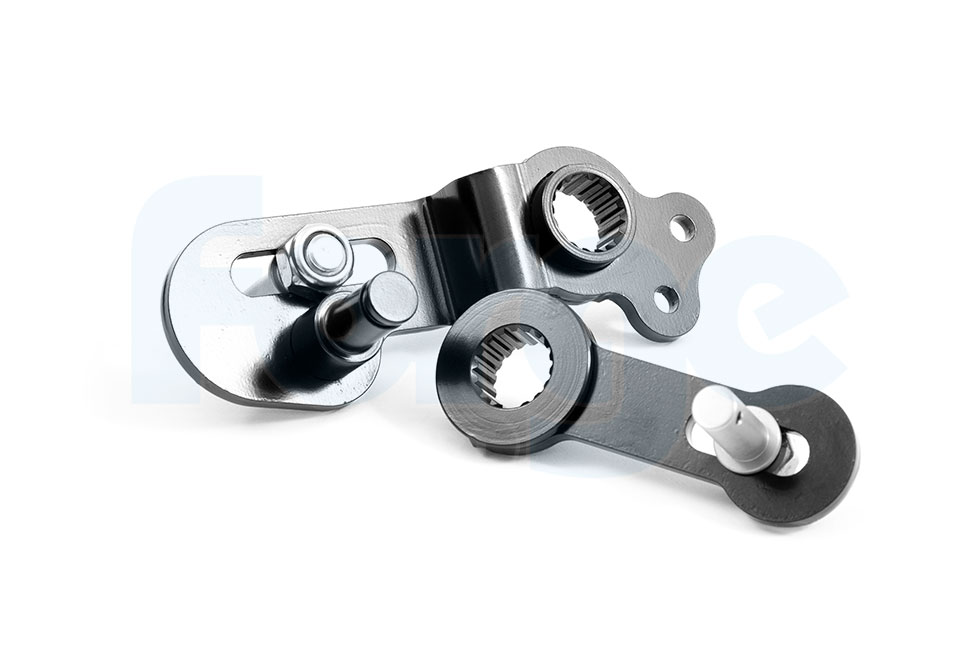 5. Intercooler Upgrade - FMINT15
Reduce those inlets temps and increase both power and reliability as a result. Stay chilled this summer in your i30N and make sure every ounce of boost is made the most of as the inlet air is kept far cooler than it has any right to. More time on track, or on the go-faster pedal will result with the fitment of this front mount intercooler upgrade bolted into position.
If you seek sustained abuse of your i30N this will be just the ticket for the job. If you use a i30N for fast road or have a high-performance tune in a hot climate, this product is essential. Thanks to 129% more volume and an increase of frontal surface area over 71% this upgrade brings with it notable power increases as well. When combined with our intake kit and high-quality cat back exhaust system, we witnessed incredible power increases from 275hp and 278ft.lbs jump up to 307hp and 347ft.lbs. When combined with one of our ECU remaps we'd also expect to see further gains. Not only did the power and torque climb, but the inlet air temps more than halved over the stock cooler. It comes with all of the bolts, brackets and pipework necessary to install on a stock car and can be fitted in around 2.5 hours depending upon spanner twiddling experience.
6. Recirculation/Dump Valve - FMDV20
Combining the best of both worlds usually involves a compromise, but not with the Hyundai i30N recirculation and to atmosphere dump valve. This nifty little collection of CNC billet, springs and a piston, allows for boost levels way beyond factory to be precisely monitored and vented upon request. The super durable and precisely machined piston assembling has been designed for extra-long service intervals. The forced induction sound effects that everyone craves can be dialled in perfectly or held back entirely when operated as a diverter valve – the choice is entirely yours.
Varying boost levels can also be dealt with via interchangeable springs with different poundage rates to delay any additional boost pressure from escaping prematurely. You can also rest assured that the valve will last decades due to the complete UK production process taking place at Forge HQ in Gloucestershire. If responsiveness, durability and high class aesthetics are your kind of thing, look no further than the i30N Recirculation and Dump Valve from Forge Motorsport. Replaces OEM Part no. 282342-CTA4