Description
Product Description
The Forge silicone hoses in this kit have been designed to include an expensive inner liner of modified silicone known as Fluorosilicone with a high temperature external iron oxide engineered solution
The construction of the hoses has been engineered to exceed that of the OEM fitments, and will enhance any engine bay both technically and aesthetically
CNC machined 6061 aircraft grade aluminium coupler
Improved turbo air flow
Increased audible sound from turbo
Direct replacement of OEM parts
Limited Lifetime warranty*
FMMD7 is our turbo muffler delete kit for the Hyundai I20N, this kit replaces the original restrictive compressor outlet with our smooth and turbulence free solution.


The OEM part is located on the outlet of the turbo compressor and its only function is to eliminate as much of the engines acoustics as possible. Where it does a good job of quietening down the audible sounds from the turbo it also disrupts the airflow in an area where it's not needed.
With Forge Motorsports expertise in this area, we have developed a kit which has removed this baffled chamber in favour with our CNC machined billet adaptor which now creates a smooth transition and uninterrupted air flow track to the intercooler, this aids to increase airflow to the engine adding extra performance especially on tuned vehicles.
A new hose design has been made with an increased internal volume and a construction of fluorosilicone internal and iron oxide external which is designed to withstand extremely high temperatures and pressures, this is why Forge Motorsport gives this product its legendary LIFETIME warranty.
All of these improvements have now created an improved throttle response and an improved ambience due to the increased turbo acoustics. Installation has been made straight forward with the inclusion of detailed step by step instructions.
This is the perfect replacement for the OEM hose which has a history of premature failure. The hose is only available in Red Ocre, as the material used in the construction of this hose has the best heat resistant characteristics

Complimentary Products
Our uprated valve for the Hyundai i20N and the Elantra N Line has been expertly manufactured and designed in the UK, meaning we can provide the industry leading valve for your vehicle. Specifically designed for the Hyundai, this valve can be used either as a fully atmospheric (blow off) valve, or a recirculating valve!
This billet aluminium oil cap will replace your OEM one, leaving your engine bay with a premium and high quality aesthetic. This cap is available in a choice of body colour (black or polished) and a choice of cap top insert (black or polished). This perfectly compliments your i20N!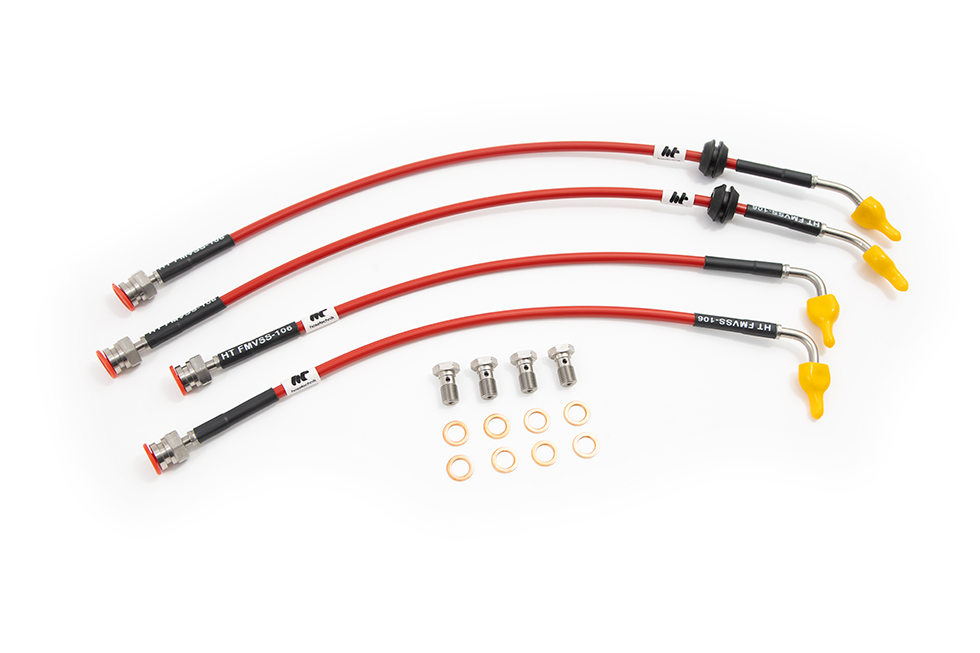 A set of 4 ultra-high performance brake lines for the Hyundai i20N. These are a direct replacement/upgrade for the OEM brake line set and require no further modifications to fit.This brake hose will perform under the most extreme and harsh conditions, whilst still looking good and performing at the highest level.

Check your vehicle compatibility: Click here
Please Note:

In line with our policy to constantly review, revise, and improve our product range, the appearance of the product you receive may differ from the one advertised.
Product Reviews
Product Reviews
from on
Nov 16th 2023
I installed this Forge muffler delete, the Forge turbo inlet and hose, oem but modified airbox, foam panel air filter, another diverter valve and Forge hose and the Forge intercooler all at the same time. I had to take of the front bumper and I took of some other parts, but I worked step by step following the manuals. I had to improvise a little what to do first but I have no complains. Everything went according to plan and I'm very happy with the result. These upgrades and a muffler delete offer me, at the moment 218hp and 328Nm of torque ( average over 3 dynonruns) and a way better throttle respons!
I am not a car mechanic, neither did I have an education in this, but I like install upgrades like this myself as a hobby.
So, as a conclusion I would say, great quality, perfect fitment and good manuals. Great job to do!
from on
Jun 28th 2023
Verified Purchase
A little bit of a pain to fit but once its on and tight its not going anywhere, looks and sounds lovely
from on
May 10th 2023
Verified Purchase
Accessing the point to where the muffler Delete needed to be installed was a bit fiddly but once fitted made a big difference to the noises produced from the induction kit I also have fitted.
Want to leave a review?

Login Register FREE!
Compatible Vehicles
Instructions
Muffler Delete for Hyundai I20N

Warranty

Warranty Infomation
The majority of Forge Motorsport products come with a limited lifetime warranty (brakes pads excluded). All warranty claims must be accompanied by the original proof of purchase to enable us to help you. Failure to supply this proof will result in your claim or enquiry being denied.
For further information, please call our customer service team on +44(0)1452 380999 or email info@forgemotorsport.co.uk.
Do not use aggressive (acidic) car cleaning products, particularly traffic film remover solutions or shampoos to clean your intercooler, radiator, or oil cooler. The use of these products can damage Forge Motorsport cooling systems and invalidate your warranty. These are often found at car washes. A light, warm, soapy solution (free of harsh acidic cleaning compounds) should be used to clean you cooler and thoroughly rinsed away. We recommend that you should inspect your product on a regular basis for bent and/or crushed fins. Any bent fins should be carefully straightened to allow ambient air to pass through the core face. At the time of installing your Forge radiator, an approved coolant must be used and added to the coolant system. Be sure you never mix coolant and always use distilled water.
This warranty does not apply to any defect in the goods arising from fair wear and tear, wilful damage, accident, negligence by you or any third party, use otherwise than as recommended by the supplier, failure to follow the supplier's instructions, or any alteration or repair carried out without the supplier's approval.
Shipping
Shipping
UK Mainland
Next day delivery applies to orders processed before 12 noon Monday to Friday, subject to stock availability and geographical restrictions. 'Next day' refers to next working day. We cannot guarantee next day delivery for orders placed after this time. Whilst we endeavour to honour our next day service, next day delivery cannot be guaranteed due to other extenuating circumstances. Full details
Delivery is free of charge for all orders £100 (ex VAT) or over. Products are sent by standard DPD service which is usually a next day service, but can take 2 days in transit. We reserve the right to ship smaller, lower value items via Royal Mail or any other service. (Not including Scottish Highlands, Scottish Isles, Northern Ireland, Guernsey, Jersey, and Isle of Man where charges will vary).
Europe and Worldwide
Delivery service charges will vary depending on the quantity of product ordered, the related parcel size, and destination postcode. Live shipping rates will be calculated at checkout using ShippyPro and dependent on criteria, you will be given the option of DHL, DPD, or FedEx courier services.
Shipping into the EU - Duty Charge Information
All Forge products are sold with a Delivery Duty Unpaid (DDU) status and an import tariff may apply to your order. Customers will be contacted by the Customs and Excise authority in the destination country regarding payment prior to delivery, and it is important that correct contact telephone number and email information be submitted with the order to facilitate this part of the delivery process. Some couriers are charging an admin fee for shipping into the EU.
If we detect at checkout that you are located within the European Union (EU), you are eligible for a contribution towards your import duty and tax payments. We can add an additional 20% on the total cost of your order, we will then pay the duty and tax costs above your contribution. This offer will ensure the price you pay at checkout is the total you pay, with no additional charges. It will also ensure you have the fastest possible delivery, with no delays. For more information, please see here

Our shipping methods ensure safe and timely delivery of your new Forge products. For further information on cost and delivery times, please contact Forge using the info@forgemotorsport.co.uk email address if you require any more information. We reserve the right to change the delivery service and company at any time.
Forge Motorsport ships via either UPS, FedEx, DHL (primarily for outside of UK), DPD (primarily for UK), or any other courier we chose. Other shipping options may be available for an additional fee over and above the actual shipping costs. Once a product has left our warehouse and is in the possession of the shipping company, any claims must be made directly with that shipper however we can assist with most cases.
Hello, are you considering a video of the installation of the muffler delete for Hyundai i20N? I'm a little worried to disassemble but especially reassemble the aluminum part. Thanks.
Hello
We do not have a fitting video as yet for this product. We do have some very detailed instructions which are on our website on the FMMD7 listing. The button for this is just under the pictures.
Answered 5 months, 3 weeks ago
I would like to purchase the i20N muffler delete with a black hose but cannot find the option, can you help. Thanks
The hose is only available in Red Iron Oxide colour, as this colour has the best properties for the hot environment that it has to operate in.
Answered 9 months ago
Items That Are Bought Together