Description
Product Description
Highlights
Compact design for installation in even the tightest locations.

Fully tuneable from 4psi to 26psi spring pressure (0.28 to 1.79bar).

(Tuning beyond 26psi will require a boost controller)

More accurate boost control with custom Eibach® springs made specifically for this application.

Fully serviceable with no specialist tools required.

Anodised billet housing.

Water-cooled option as standard to keep the piston, O-ring and cylinder within their optimum operating range.

NO Diaphragm to fail, unlike our competitors, which enables the use of high pressure compressor driven boost control above the piston if necessary or desired, without the danger of the diaphragm turning inside out

Unique lightweight piston design.

Faster response.

Original purchaser has "Forge Motorsport Lifetime Warranty".

304 Stainless Steel CNC machined V-band clamps supplied for easy installation and maximum clamping force.

44mm industry standard weld on fittings supplied for installation to any existing 44mm set up.

Adjustable water inlet and outlet position.
Having been the world leaders in aftermarket replacement turbo actuators for the last 20 years we spent a long time conducting market research and development to find exactly what would constitute "The World's Best External Wastegate" and here we are… Forge Motorsport proudly present the world's first piston wastegate with optional water cooling – the FMWCW1.
Following the release of our original piston operated wastegate we knew that we wanted to create a product that would perform to the same capability but within a more compact area.
In striving to do this, our engineers managed to develop a wastegate that exceeded all expectations.
Our new wastegate is 45% smaller than the original, and can withstand temperatures of over 1000⭐ . The internals have been designed so that the piston is more responsive than ever. It is the world's first external, piston operated wastegate with water-cooling capability.

The Design
We observed that there were issues within the industry of external wastegates failing due to the environments they are situated in. We knew that we did not want to take a step backwards and use diaphragm internals, so we concentrated on reducing the piston and spring size.
Our engineers came up with multiple body styles and conducted flow tests on each one to determine which would perform to the best ability and still have a good aesthetic design.
The piston has a unique lightweight design and a faster response, the internal area below the piston has been minimised so that there is less area to fill/empty before boost control occurs.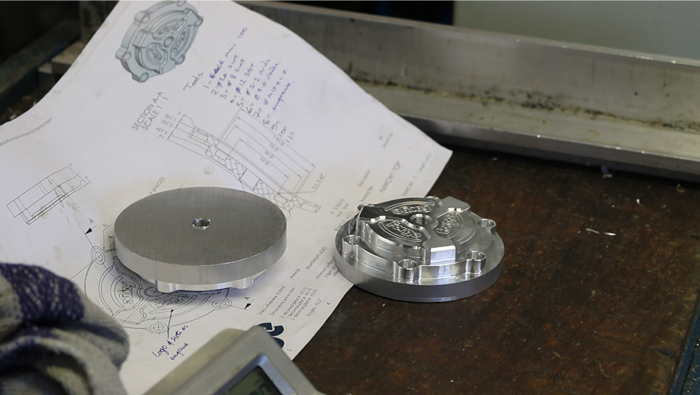 Following extensive in house flow and heat tests we dispatched multiple prototype wastegates to select motorsport contacts for extreme vehicle application testing. One was even fitted to our own race Mk1 Golf.
The materials of the wastegate have been specifically chosen for their ability to withstand the harsh environment they are exposed to: The valve is made from Inconel 800 and ground with a tolerance of 30 microns (0.03mm), the guide is made from Nitronic 60 machined to the same tolerances, and the base is 304 stainless steel and the aluminium upper body is aerospace grade 6082. Even the internal O-rings are made from Viton. Nothing has been left to chance.
We sent wastegates to DubShack Racing to test on their high powered VW Lupo and Owen Developments to test on the high powered, ¼ mile drag racing Suzuki Hayabusa they had in the shop.
Owen Developments continued to test the wastegates on other turbo applications they were involved with.

With all the Engineering aspects taken care of we needed to be sure we had the best performing springs controlling this new innovative product, so rather than using a commercial spring maker we turned to the masters of spring technology... Eibach!
Accurate turbo boost control is critical to the safe and smooth running of any forced induction engine. There are many design elements to a Wastegate that contribute to its boost control accuracy (boost sensitivity) but perhaps none more significant than the spring. The Wastegate spring is the component that ultimately controls the pressure at which the Wastegate valve opens and bleeds exhaust gases away from the turbo. Eibach, as a spring manufacturer, needs no introduction, having been seen on high end motorsport and high end road cars for many decades now. They represent the 'best' the industry has to offer. The Forge Motorsport engineers set out a brief to Eibach and what they proposed was nothing short of 'best in class' - exactly what we expected. The springs are made from a very high strength Silicone Chrome spring steel (same as they use for F1 springs!) and most notably for this application, have a tolerance of +/-70g of force at the blow open load - that's the equivalent force of a small confectionary bar! So boost sensitivity, the pressure change over the target pressure that causes the valve to blow open, is now greatly enhanced and so, therefore, is the boost control.
With a combination of a single spring and shims, the following boost pressure can be accurately realised: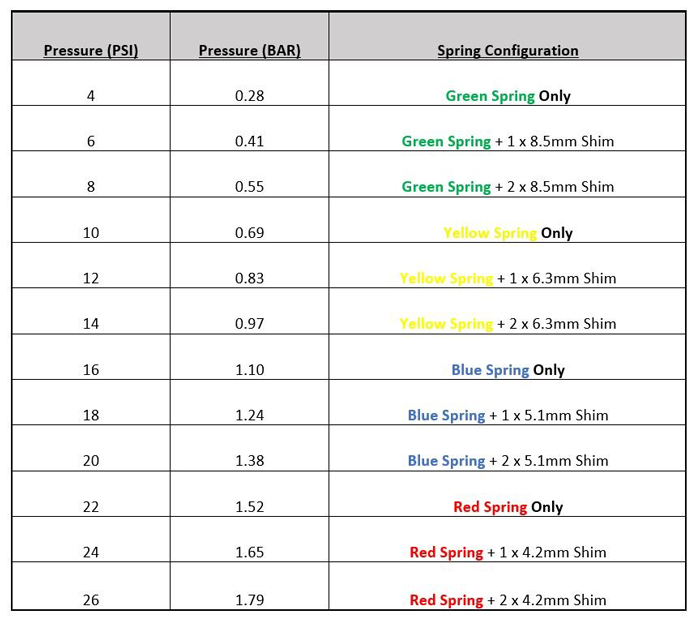 About Wastegates
All petrol / gasoline turbo engines utilise a wastegate of some kind and there are usually two types, an internal or external version, which refers to their location. An internal wastegate is built into the casting of the hotside of the turbo, connected to the exhaust. An external wastegate is mounted separately away from the turbo. Both these configurations provide a way to bypass the exhaust flow coming from the manifold around the turbine wheel, allowing you to maintain a set level of boost. The bypassed exhaust flow causes a reduction in the exhaust flow that is driving the turbine wheel, thus giving the ability to raise and lower boost as required to meet your target boost. Like a blow off valve, the external wastegate uses boost pressure to balance the flow bypassing the turbine.
External wastegate's are usually used on high output engines, as it allows for a much smoother and less complicated casting on the turbo itself, as it no longer has to have provision for an internal wastegate, which in turn makes the turbo work more efficiently. Also boost creep, which is typical on a turbo with an internal wastegate where the wastegate hole is too small, is a thing of the past as the external wastegate can be of a much larger size without compromising the turbo.
Check your vehicle compatibility: Click here
Please Note:

In line with our policy to constantly review, revise, and improve our product range, the appearance of the product you receive may differ from the one advertised.
Product Reviews
Product Reviews
Be the first to review this product
Want to leave a review?

Login Register FREE!
Compatible Vehicles
Instructions
44mm Piston External Wastegate
Warranty

Warranty Infomation
The majority of Forge Motorsport products come with a limited lifetime warranty (brakes pads excluded). All warranty claims must be accompanied by the original proof of purchase to enable us to help you. Failure to supply this proof will result in your claim or enquiry being denied.
For further information, please call our customer service team on +44(0)1452 380999 or email info@forgemotorsport.co.uk.
Do not use aggressive (acidic) car cleaning products, particularly traffic film remover solutions or shampoos to clean your intercooler, radiator, or oil cooler. The use of these products can damage Forge Motorsport cooling systems and invalidate your warranty. These are often found at car washes. A light, warm, soapy solution (free of harsh acidic cleaning compounds) should be used to clean you cooler and thoroughly rinsed away. We recommend that you should inspect your product on a regular basis for bent and/or crushed fins. Any bent fins should be carefully straightened to allow ambient air to pass through the core face. At the time of installing your Forge radiator, an approved coolant must be used and added to the coolant system. Be sure you never mix coolant and always use distilled water.
This warranty does not apply to any defect in the goods arising from fair wear and tear, wilful damage, accident, negligence by you or any third party, use otherwise than as recommended by the supplier, failure to follow the supplier's instructions, or any alteration or repair carried out without the supplier's approval.
Shipping
Shipping
UK Mainland
Next day delivery applies to orders processed before 12 noon Monday to Friday, subject to stock availability and geographical restrictions. 'Next day' refers to next working day. We cannot guarantee next day delivery for orders placed after this time. Whilst we endeavour to honour our next day service, next day delivery cannot be guaranteed due to other extenuating circumstances. Full details
Delivery is free of charge for all orders £100 (ex VAT) or over. Products are sent by standard DPD service which is usually a next day service, but can take 2 days in transit. We reserve the right to ship smaller, lower value items via Royal Mail or any other service. (Not including Scottish Highlands, Scottish Isles, Northern Ireland, Guernsey, Jersey, and Isle of Man where charges will vary).
Europe and Worldwide
Delivery service charges will vary depending on the quantity of product ordered, the related parcel size, and destination postcode. Live shipping rates will be calculated at checkout using ShippyPro and dependent on criteria, you will be given the option of DHL, DPD, or FedEx courier services.
Shipping into the EU - Duty Charge Information
All Forge products are sold with a Delivery Duty Unpaid (DDU) status and an import tariff may apply to your order. Customers will be contacted by the Customs and Excise authority in the destination country regarding payment prior to delivery, and it is important that correct contact telephone number and email information be submitted with the order to facilitate this part of the delivery process. Some couriers are charging an admin fee for shipping into the EU.
If we detect at checkout that you are located within the European Union (EU), you are eligible for a contribution towards your import duty and tax payments. We can add an additional 20% on the total cost of your order, we will then pay the duty and tax costs above your contribution. This offer will ensure the price you pay at checkout is the total you pay, with no additional charges. It will also ensure you have the fastest possible delivery, with no delays. For more information, please see here

Our shipping methods ensure safe and timely delivery of your new Forge products. For further information on cost and delivery times, please contact Forge using the info@forgemotorsport.co.uk email address if you require any more information. We reserve the right to change the delivery service and company at any time.
Forge Motorsport ships via either UPS, FedEx, DHL (primarily for outside of UK), DPD (primarily for UK), or any other courier we chose. Other shipping options may be available for an additional fee over and above the actual shipping costs. Once a product has left our warehouse and is in the possession of the shipping company, any claims must be made directly with that shipper however we can assist with most cases.