Description
Product Description
These pipes replace the plastic pipework from the turbo to intercooler and the plastic pipe between the intercooler and throttle body.
The original pipes are very restrictive - the turbo to intercooler pipe is flattened down each side quite severely for no apparent reason. There is plenty of clearance between the block and the chassis for a larger round pipe. The Forge pipe is as big as you can go without the ECU reporting an error. The stock intercooler to throttle body pipe is also restrictive, being ovalised along its length, and manufactured from two pieces glued together making the inside of the pipe non-uniform.
Turbo to intercooler pipe from below showing restriction:
Both the Forge pipes are manufactured from mandrel bent, highly polished aluminium tube and come with all fixings necessary. The intercooler to throttle body pipe can be complimented with our FMKTSCI throttle body hose.
Fits the CCTA and CAWB 2.0 litre petrol turbo engine as fitted to the latest VAG cars.
Turbo to intercooler pipe fitted:
Intercooler to throttle body pipe fitted (picture from beneath, also shown with FMKTSCI throttle body pipe):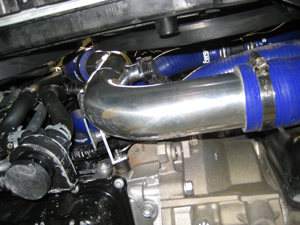 Check your vehicle compatibility: Click here
Please Note:

In line with our policy to constantly review, revise, and improve our product range, the appearance of the product you receive may differ from the one advertised.
Product Reviews
Product Reviews
from on
Mar 22nd 2017
Verified Purchase
easy to fit although it lacked any instructions, had to figure out what piece went where for 5 mins using the pictures off the website, also was missing 2 screws so had to use my own, other than that its a good easy to install after market addition and actually a bloody good price (others are 200 for just 1 pipe), would recommend and goes well with an induction kit and remap (no warning lights on dash)
Want to leave a review?

Login Register FREE!
Compatible Vehicles
Warranty

Warranty Infomation
The majority of Forge Motorsport products come with a limited lifetime warranty (brakes pads excluded). All warranty claims must be accompanied by the original proof of purchase to enable us to help you. Failure to supply this proof will result in your claim or enquiry being denied.
For further information, please call our customer service team on +44(0)1452 380999 or email info@forgemotorsport.co.uk.
Do not use aggressive (acidic) car cleaning products, particularly traffic film remover solutions or shampoos to clean your intercooler, radiator, or oil cooler. The use of these products can damage Forge Motorsport cooling systems and invalidate your warranty. These are often found at car washes. A light, warm, soapy solution (free of harsh acidic cleaning compounds) should be used to clean you cooler and thoroughly rinsed away. We recommend that you should inspect your product on a regular basis for bent and/or crushed fins. Any bent fins should be carefully straightened to allow ambient air to pass through the core face. At the time of installing your Forge radiator, an approved coolant must be used and added to the coolant system. Be sure you never mix coolant and always use distilled water.
This warranty does not apply to any defect in the goods arising from fair wear and tear, wilful damage, accident, negligence by you or any third party, use otherwise than as recommended by the supplier, failure to follow the supplier's instructions, or any alteration or repair carried out without the supplier's approval.
Shipping
Shipping
UK Mainland
Next day delivery applies to orders processed before 12 noon Monday to Friday, subject to stock availability and geographical restrictions. 'Next day' refers to next working day. We cannot guarantee next day delivery for orders placed after this time. Whilst we endeavour to honour our next day service, next day delivery cannot be guaranteed due to other extenuating circumstances. Full details
Delivery is free of charge for all orders £100 (ex VAT) or over. Products are sent by standard DPD service which is usually a next day service, but can take 2 days in transit. We reserve the right to ship smaller, lower value items via Royal Mail or any other service. (Not including Scottish Highlands, Scottish Isles, Northern Ireland, Guernsey, Jersey, and Isle of Man where charges will vary).
Europe and Worldwide
Delivery service charges will vary depending on the quantity of product ordered, the related parcel size, and destination postcode. Live shipping rates will be calculated at checkout using ShippyPro and dependent on criteria, you will be given the option of DHL, DPD, or FedEx courier services.
Shipping into the EU - Duty Charge Information
All Forge products are sold with a Delivery Duty Unpaid (DDU) status and an import tariff may apply to your order. Customers will be contacted by the Customs and Excise authority in the destination country regarding payment prior to delivery, and it is important that correct contact telephone number and email information be submitted with the order to facilitate this part of the delivery process. Some couriers are charging an admin fee for shipping into the EU.
If we detect at checkout that you are located within the European Union (EU), you are eligible for a contribution towards your import duty and tax payments. We can add an additional 20% on the total cost of your order, we will then pay the duty and tax costs above your contribution. This offer will ensure the price you pay at checkout is the total you pay, with no additional charges. It will also ensure you have the fastest possible delivery, with no delays. For more information, please see here

Our shipping methods ensure safe and timely delivery of your new Forge products. For further information on cost and delivery times, please contact Forge using the info@forgemotorsport.co.uk email address if you require any more information. We reserve the right to change the delivery service and company at any time.
Forge Motorsport ships via either UPS, FedEx, DHL (primarily for outside of UK), DPD (primarily for UK), or any other courier we chose. Other shipping options may be available for an additional fee over and above the actual shipping costs. Once a product has left our warehouse and is in the possession of the shipping company, any claims must be made directly with that shipper however we can assist with most cases.
Hi :) I bought a set of the Scirocco 2.0l TSI intercooler hard pipes, however I didn't read your description beforehand which says the pipes are for CCTA and CAWB 2.0 litre petrol turbo engine, however mine is a 2010 210bhp TSI which has the engine code of CCZB but someone has said to me that the CAWB and the CCZB are the same engine but different internals, mine has the K03 turbo fitted as well. My question is will these pipes actually fit my car or do I need to get different ones?
good morning , im sorry we have not confirmed fitment on this particular engine code.
Answered 6 months, 1 week ago
Items That Are Bought Together