Forging ahead – celebrating 25 years of precision engineering and fabrication - By Davy Lewis
From humble beginnings in 1996, to today's multi-million pound, global business, Forge Motorsport has become one of the most respected performance automotive brands in the world.
A name synonymous with quality and innovation, the Gloucester-based precision engineers and fabricators now boast over 300 dealers worldwide, including offices in Asia and the US.
And to think, it all began with an RS Turbo 'dump-valve' back in 1996…
A proud history of engineering
Since the original company Forge Engineering was founded in 1983, the focus has always been on precision engineering and fabrication.
Set up as Forge Engineering 38 years ago by the auntie and uncle, and parents of present MD Peter Miles with Forge Motorsport developing from this 25 years ago. This small, but highly skilled company employed fewer than ten people, but prided itself on its high-quality engineering solutions. From contracts with local firms, including Birdseye Walls (now Unilever) and ICI Fibres (now DuPont), to many specialist projects; the ability to turn their hand to anything, is what set this family business apart from the rest. "MD Peter Miles recalls with a smile, "We were credited with keeping the Walls Vienetta production line going in the '80s and '90s."
A small but loyal band of employees who started out with the company are still here today, one of whom is the longest serving with 37 years under his belt. This milestone provided the inspiration for the latest "Originals" video, where key staff members give their take on the company's incredible journey. (Check out the Forge Motorsport social media and YouTube channels).
Having built up a highly-respected reputation, it was no surprise that, in 1996, when they turned their hand to performance automotive components, the end results went down a storm with enthusiasts – firmly establishing the Forge Motorsport brand in the process. MD Peter Miles explains, "One of our engineers wanted (what was then) a dump-valve for his Escort RS Turbo, and reckoned he could do a better job than those currently available. At the time, we told him that wasn't really what we did, but he went on to design one in his own time anyway."
It turned out the new DV worked like a dream and the rest, as they say, was history. Forge Motorsport went on to make another 40 of them and the next step was to book a small stand in the engineering hall at the 2006 Autosport International show, which resulted in over 200 orders. There followed a range of products based around the original design for other turbocharged vehicles, such as the Renault 5 GT Turbo and Sierra RS Cosworth – vehicles that were hot property in the fast-growing aftermarket tuning scene.
Each year, new products were added to the line, culminating in today's huge range, which includes BOVs, alloy header tanks, intercoolers, air intakes, silicone hoses and big-brake kits. Forge Motorsport displayed for 21 years in a row at Autosport International, becoming one of the bedrocks of the performance tuning industry.
Forge Motorsport USA
One of the products that really put the company on the performance automotive map was the 007 valve, developed for the ubiquitous 1.8T engine used in a multitude of VAG vehicles.
MD Peter Miles spotted one of them fitted to a car at a show in Miami. "We ended up supplying the owner, George Osman, with more valves and he became our first distributor in the US." From here they supplied to ECS Tuning, one of the largest performance aftermarket companies in the world. Forge Motorsport USA now has four employees and turns over £2-million per year.
With the US leading the way, the team began looking at other VAG-specific products to develop, and there soon followed a range of intercoolers and silicone hoses, to complement the valves.
From here, six key products were focused on: DVs, BOVs, actuators, intercoolers, intakes and silicone hoses. Work then began on expanding the range of applications, which today covers a multitude of vehicles, from MINIs to McLarens.
Forge Motorsport Asia
Having successfully worked with key Asian distributors, Forge Motorsport were proud to open their Taiwan office in 2013. Penny and Eric Ho at E51 Studios are based in Taichung and have brought a wealth of experience to the business. "These guys really helped with the marketing side of things," says Peter, "especially their unique ideas for packaging." The energy and enthusiasm from these guys really is infectious and they represent a very important part of the global market.
Achievements
With a quarter of a century under their collective belts, the Forge Motorsport family has racked up some memorable achievements. Opening the US and Asian offices are two of the big ones; exposing the brand to a truly global audience. And with over 300 dealers in 200 countries, it's something that everyone at the Gloucester HQ is rightly proud of.
Other notable achievements include ten years of the Forge Action Day at Castle Combe Circuit and building the iconic Mk1 Golf GTi (aka Rabbit for our US friends!). The Berg Cup-inspired VW even made it to the SEMA show in Las Vegas, where it took pride of place on the Garrett Advancing Motion booth. It also took a trip to Taiwan – helping it to reach a global audience.
Product-wise, it's the development of the 1.8T Split R recirculation, BOV valve that takes some beating. This development set new standards and became the go-to fitment for VAG tuners all over the world. It still sells in huge numbers and has helped to further strengthen Forge Motorsport as a global brand.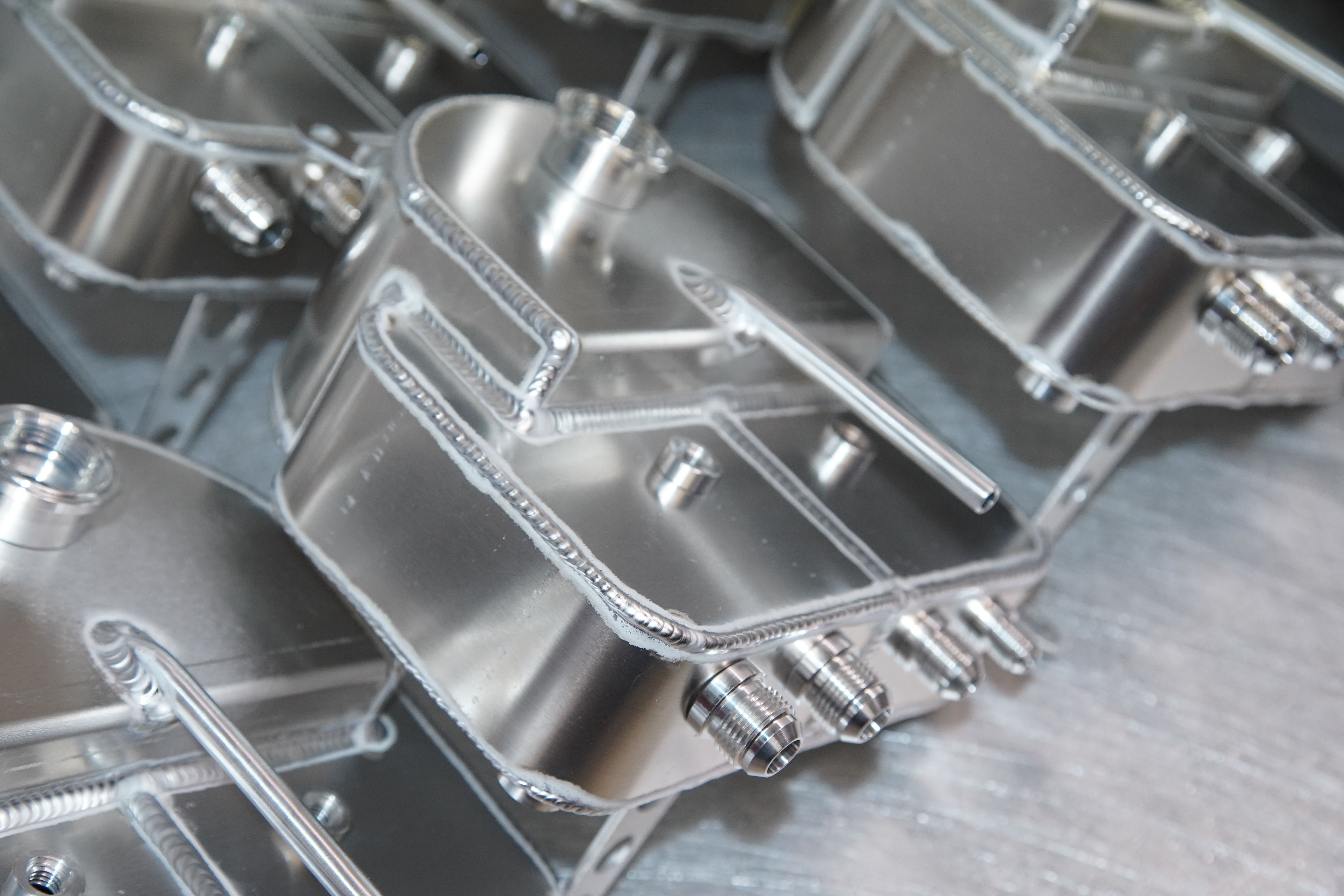 What does the future hold for Forge Motorsport?
Having just endured a global pandemic, the world is a very different place. But thanks to their core values, Forge motorsport has not only weathered the storm, but recorded their best ever year. "We are where we are because of the people that work here," says MD Peter Miles. "It's very much a family business with multiple generations working together; we now have 55 employees, 19 CNC machines capable of running 24-hours a day and a turnover of £6.5-million."
The EV revolution is already happening, but rather than fear it, Forge plans to embrace it. "We're working with some large OE manufacturers and are in talks with several EV companies who require quality engineering solutions," says MD Peter Miles. "We're also involved with many high-level non-automotive projects, which include the aerospace industry and the MoD, that are giving our engineers something to get their teeth into."
Specialist projects require specialist solutions and going back to their roots as precision engineers and fabricators, on a subcontract basis, is something that excites everyone at the company.
But that doesn't mean the performance automotive side will be sidelined. Far from it. With products in constant development for the latest performance vehicles, the longevity of the brand is assured. MD Peter Miles says, "We've recently taken delivery of our Golf Mk8 R and will be producing a range of products for this and other vehicles using the same platform. We also plan to continue our collaboration with respected names in the industry such as the RS6 C8 project with Awesome – so we'll be supplying performance parts for many years to come – here's to the next 25 years!"
Forge Motorsport in numbers:
25 years of Forge Motorsport
3 global offices; Gloucester, UK; Tai Chung, Taiwan; Florida, USA
65 employees
300 dealers worldwide
200 countries sell Forge products
37 years in business (Forge Engineering)
20 CNC machines
10 years of Forge Action Day at Castle Combe Circuit
£250k, cost of 5-axis CNC machine
2013 Forge Asia opened
£6.5-million turnover
​​​​​​​2020 record year for sales