Description
Product Description
This kit has been designed to address the weakness of the stock oil cooler – the cooler fitted to your car from Audi is aluminium, but the fittings on the ends of the cooler hoses are steel. The result is corrosion between the two different metals which cracks the fittings over time, causing a slow oil leak that gets worse with age, and eventually ends in a catastrophic failure of the oil cooler lines - and if you are unlucky, the engine too.
Due to the corrosion setting in on the lines, they usually cannot be removed from the oil cooler without damaging it. This results in the need for the oil cooler and both lines to be replaced at a cost of over £1100 from the dealer, before you factor in consumables and labour to change the parts.
Our solution uses tried and test products. It is a full replacement right from the fitting on the engine block which is precision made from 6082 billet aluminium, and then anodised to prevent any possibility of corrosion.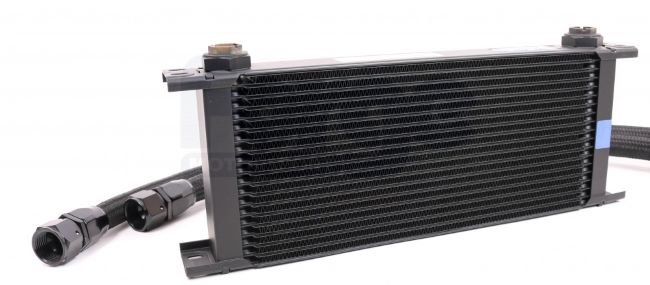 This fitting leads to -12 AN Hose Technik black anodised aluminium fittings on Hose Technik braided lines with black overbraid.
Cooling is accomplished by a 19 row Setrab oil cooler, the same manufacturer that supplies Audi and several F1 teams, again with a black finish. All the mating parts are similar materials and are tried and tested in Motorsport - there is no fear of corrosion affecting the fittings after a few years of use. The cooler is supported on a laser cut and powder coated frame that also holds the Audi fan control module in place. With everything finished in black, it makes for the ultimate stealth installation and unless you know what you are looking for, you won't see it.
The original remit of this replacement was to do away with all the troublesome Audi parts, which this kit accomplishes, but by relocating the oil cooler slightly higher than stock, we have also reduced the chances of damage from road debris.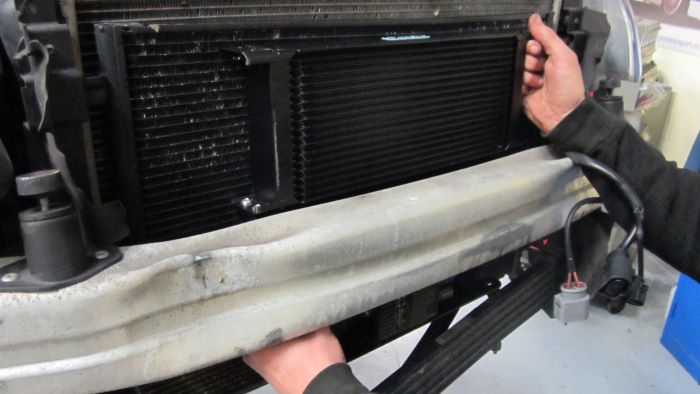 All parts needed for installation are included - bolts, nuts, washers, brackets, and full instructions, though you will need up to additional 2 litres of engine oil to account for the loss from removing your old oil cooler, and for filling the new cooler and lines.

Check your vehicle compatibility: Click here
Please Note:

In line with our policy to constantly review, revise, and improve our product range, the appearance of the product you receive may differ from the one advertised.
Product Reviews
Product Reviews
from on
Jan 27th 2018
Good quality, fitting takes about two hours with number removal and reinstall.
Happy overall but there is one small issue. Once the cooler is relocated there is a small vibration when reving the engine. Changed all rubber bobbins with new ones but still vibrating. This might be because the radiator metal support is screwed into the bumper shock bar, the aluminium one or because of the two plastic holders at the top of the cooler which holds the cooler in place so a distance is kept between the cooler and the aircon radiator.

If you can come up with a solution for that then you have the perfect products.

Thank you.
from on
Dec 18th 2017
It's very rare that I bother writing a review, in the times that I DO write a review its usually because the product or service is absolutely horrendous or absolutely first class. I am pleased to say in this instance that it because I am genuinely amazed by the quality of this product.

After an exhaustive research period I decided to bite the bullet and go for a Forge Oil Cooler setup. At first I was a little dubious that the price was not extrapolated from the Audi OEM prices less 25% however I Could see at every step of this install that everything has been designed and considered from the ground up.

Installation was a breeze thanks to the step by step instructions and the quality of each individual component.
I will however say that I am pleasantly concerned that the team at Forge Motorsport have a serious case of OCD. This starts at the moment you open to box where a laser cut foam template is carefully holding the USB key with instructions, a bottle opener and a key chain, as well as the Forge laser cut mounting brackets. This then continues with each step of the fitment process where I was amazed that Forge have gone to the effort to custom CNC machine out a S shape scissor grommet that holds the two oil lines in place through the plastic mounting cowling – the fit is 100% better than the crappy rubber OEM grommet.

Overall I am very impressed with the service and quality of workmanship put into this product and I would certainly recommend this kit to anyone.

Want to leave a review?

Login Register FREE!
Compatible Vehicles
Instructions
Engine Oil Cooler for the Audi RS4 4.2 (B7 2006-2008)
Warranty

Warranty Infomation
The majority of Forge Motorsport products come with a limited lifetime warranty (brakes pads excluded). All warranty claims must be accompanied by the original proof of purchase to enable us to help you. Failure to supply this proof will result in your claim or enquiry being denied.
For further information, please call our customer service team on +44(0)1452 380999 or email info@forgemotorsport.co.uk.
Do not use aggressive (acidic) car cleaning products, particularly traffic film remover solutions or shampoos to clean your intercooler, radiator, or oil cooler. The use of these products can damage Forge Motorsport cooling systems and invalidate your warranty. These are often found at car washes. A light, warm, soapy solution (free of harsh acidic cleaning compounds) should be used to clean you cooler and thoroughly rinsed away. We recommend that you should inspect your product on a regular basis for bent and/or crushed fins. Any bent fins should be carefully straightened to allow ambient air to pass through the core face. At the time of installing your Forge radiator, an approved coolant must be used and added to the coolant system. Be sure you never mix coolant and always use distilled water.
This warranty does not apply to any defect in the goods arising from fair wear and tear, wilful damage, accident, negligence by you or any third party, use otherwise than as recommended by the supplier, failure to follow the supplier's instructions, or any alteration or repair carried out without the supplier's approval.
Shipping
Shipping
UK Mainland
Next day delivery applies to orders processed before 12 noon Monday to Friday, subject to stock availability and geographical restrictions. 'Next day' refers to next working day. We cannot guarantee next day delivery for orders placed after this time. Whilst we endeavour to honour our next day service, next day delivery cannot be guaranteed due to other extenuating circumstances. Full details
Delivery is free of charge for all orders £100 (ex VAT) or over. Products are sent by standard DPD service which is usually a next day service, but can take 2 days in transit. We reserve the right to ship smaller, lower value items via Royal Mail or any other service. (Not including Scottish Highlands, Scottish Isles, Northern Ireland, Guernsey, Jersey, and Isle of Man where charges will vary).
Europe and Worldwide
Delivery service charges will vary depending on the quantity of product ordered, the related parcel size, and destination postcode. Live shipping rates will be calculated at checkout using ShippyPro and dependent on criteria, you will be given the option of DHL, DPD, or FedEx courier services.
Shipping into the EU - Duty Charge Information
All Forge products are sold with a Delivery Duty Unpaid (DDU) status and an import tariff may apply to your order. Customers will be contacted by the Customs and Excise authority in the destination country regarding payment prior to delivery, and it is important that correct contact telephone number and email information be submitted with the order to facilitate this part of the delivery process. Some couriers are charging an admin fee for shipping into the EU.
If we detect at checkout that you are located within the European Union (EU), you are eligible for a contribution towards your import duty and tax payments. We can add an additional 20% on the total cost of your order, we will then pay the duty and tax costs above your contribution. This offer will ensure the price you pay at checkout is the total you pay, with no additional charges. It will also ensure you have the fastest possible delivery, with no delays. For more information, please see here

Our shipping methods ensure safe and timely delivery of your new Forge products. For further information on cost and delivery times, please contact Forge using the info@forgemotorsport.co.uk email address if you require any more information. We reserve the right to change the delivery service and company at any time.
Forge Motorsport ships via either UPS, FedEx, DHL (primarily for outside of UK), DPD (primarily for UK), or any other courier we chose. Other shipping options may be available for an additional fee over and above the actual shipping costs. Once a product has left our warehouse and is in the possession of the shipping company, any claims must be made directly with that shipper however we can assist with most cases.
Items That Are Bought Together
Associated Products
Alternative Products