A French Flight Of Fancy - Megane RS Upgrades
The Megane is a sure-fire hot hatch legend. Entertaining, tenacious, rabid through the bends and always willing to lift an inside rear wheel whenever the chance arises, particularly in ultra-exclusive Trophy R guise with its lightweight carbon fibre parts and custom tuned Ohlins suspension the Mk4 Megane RS280 and 300 have become the stuff of Dieppe-produced legend over the last couple of years or so. In fact, few hot hatches have been heaped with more praise than the entire Megane RS back catalogue, so it's only natural that we'd want to get in on the hot hatch action that makes this French weapon so very scintillating to hustle.
The 1.8-litre derivative of the Alpine A110 engine sees itself pushed further than ever before in both 280hp and 300hp formats here, yet the direct-injection lump is still capable of supporting even more boost to unleash further ponies from the French stallion. Although statistically not as quick as many of the AWD uber hatch rivals that it shares the marketplace with, the Megane is all about the way it makes you feel. It fizzes with excitement, accuracy and agility, carries slightly less mass than all of the four driveshaft competitors, and always puts a massive grin upon the face of anyone who steps inside – it really does make you feel alive.
To further capitalise upon the inner hooligan contained within the Mk4 Megane RS, Forge Motorsport added a range of new parts to improve efficiency and regulate boost pressure more positively than ever before - hold on to your PSI, the ride's about to get a lot quicker.
Mk4 Megane 280/300 Uprated Boost Hoses
Designed to replace OE part numbers 144605812R, 144632831R. and 144636922R, the latest flurosilicone hoses from Forge promise to contain and withstand the sort of the PSI only usually seen on highly tuned or remapped engines. With a no-quibble, lifetime warranty they're sure to outlast the OE rubber version, withstand heat cycles more durably and also keep the boost precisely where it's meant to be – in the engine! Not only an aesthetic upgrade – particularly as they come in a Renault Sport aping yellow hue, you also have the choice of red, blue and black, these latest hoses won't let you down. The kit includes four Flurosilicone lined hoses, two CNC machined billet couplers, and all the hose clamps required to make them a plug and play install for even the most reserved of spanner twiddlers. Look out for part number FMKT027
How much? £220.00 inc VAT
Mk4 Megane 280/300 Large Bore Inlet Hose
Replaces OE part number 16 57 542 63R and promises to free up the flow of the factory airbox straight into the rear mounted turbo. By reducing the complexity of the inlet pipe more air can be freely breathed by the turbocharger as it gulps down as much life-giving oxygen as possible to keep up with the demands of the direct injection 1.8-litre engine. A simple upgrade but one that has a big impact upon performance and aesthetics because the larger hose comes in yellow, red, blue and black options to lift any factory looking engine. Cast aside the standard hard plastic offering and upgrade to the best thanks to Forge Motorsport. FMINLH14 is the part to keep your eyes peeled for.
How much? £69.98 inc VAT
Megane RS280/300 Blow Off Valve
The OE electronically controlled bypass valve is a well-documented weak spot of the 1.8-litre boost system. Part number 144839204R is well known to fail, although detecting that it has done so is problematic without a diagnostic scan of the ECU. A check engine light is also particularly unusual as the valve is still able to be blown open by the boost pressure as it surges through the system. Quite often this leads to an inability of the diaphragm within the OE valve to seal properly.
That's why the latest Forge Blow Off Valve is particularly well suited to engines that operate in warmer climates or have received software upgrades to the ECU that generate additional boost pressure in the system. The Forge alternative is a CNC machined ally item fitted with a red actuator spring as standard (other poundage options are available) and it works via a piston rather than a diaphragm, so its reliability is unquestioned. It also retains the desirable ECU control albeit with the pressure / vacuum operated valve aluminium inside.
For those who seek premium quality ptissshh-tissch to atmosphere sound effects, and to re-enact every possible gearchange from Fast and Furious, there's no need to look further than FMDV23A as it comes supplied with everything you need to make installation simplicity itself.
For the recirculating version that vents additional boost back into the inlet tract, look for part number FMDV23R.
How much: £199.51 incl VAT
And finally, here's an aesthetic treat to brighten up and lift the appeal of a handful of modern-day engine bays. This billet aluminium oil cap will replace your OEM one, leaving your engine bay with a premium Champagne look that's achievable on a lemonade budget. Spruce up your under-bonnet appeal - make your Megane appear as if it's worth every part of that £28k+ price tag. This cap is available in a choice of body colour (black or polished) and a choice of cap top insert (black or polished), so you can tailor the appearance to suit whatever sort of black plastic ocean it's about to enter.
Compatible Vehicles for fitment of this oil cap include:
Hyundai i30N
Hyundai Veloster N
Honda Civic Type R
Nissan GTR R35
Renault Megane RS Mk4 280 / 300
Look out for FMCAP5 to find out more.
How much? £36.00 Inc VAT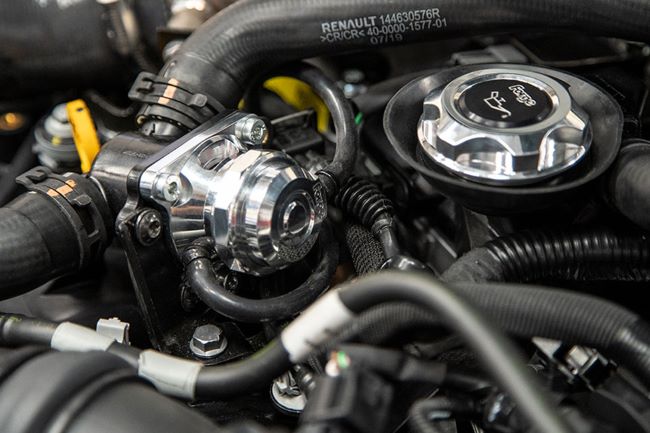 There you have it, not just one of the all-time great driver's cars made even better thanks to Forge Motorsport, but a car that you can pound upon harder, take to the redline more often and stand back and admire when you're done. What's not to love about that? Bon voyage mon ami.
By: Jimbo Wallace