Description
Product Description
With modern day aftermarket ECU tuning pushing powerful engines harder. In certain conditions the vehicle will run the risk of receiving inadequately cooled air affecting the engines efficiency and ultimately losing power.
With this in mind, Forge are proud to release another PolarCooler as the first auxiliary cooling system for the BMW B58 engine Found in the A90 Supra. Following extensive testing on the road and dyno working with 3 different styles of water core with different fin pitch configurations, we are proud to present the ultimate in frontal water cooling solutions.
If you are a keen modifier and wish to push the limits of your A90 this chargecooler is a must, With 177% increase in volume hot climate owners will definitely appreciate the development that has gone into this product resulting in safer IATs (inlet air temps) for a longer period of time meaning when on track it takes longer for the standard ecu to reduce ignition timing which will create power loss. With the Forge PolarCooler it results in more power for longer with peace of mind for track day sessions.
The PolarCooler is available in either a powder coated satin Black finish or motorsport raw Alloy.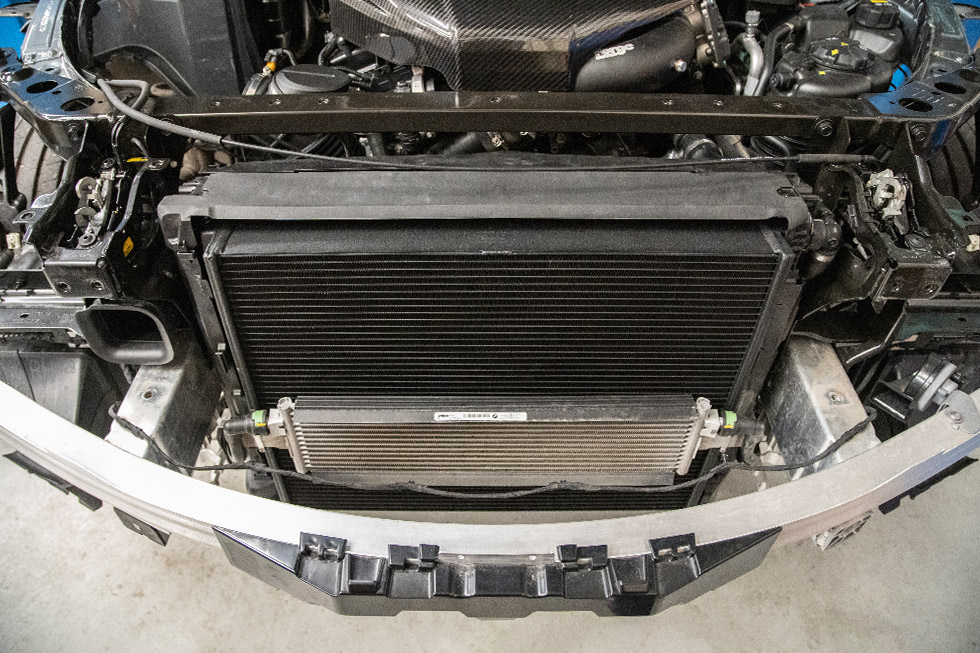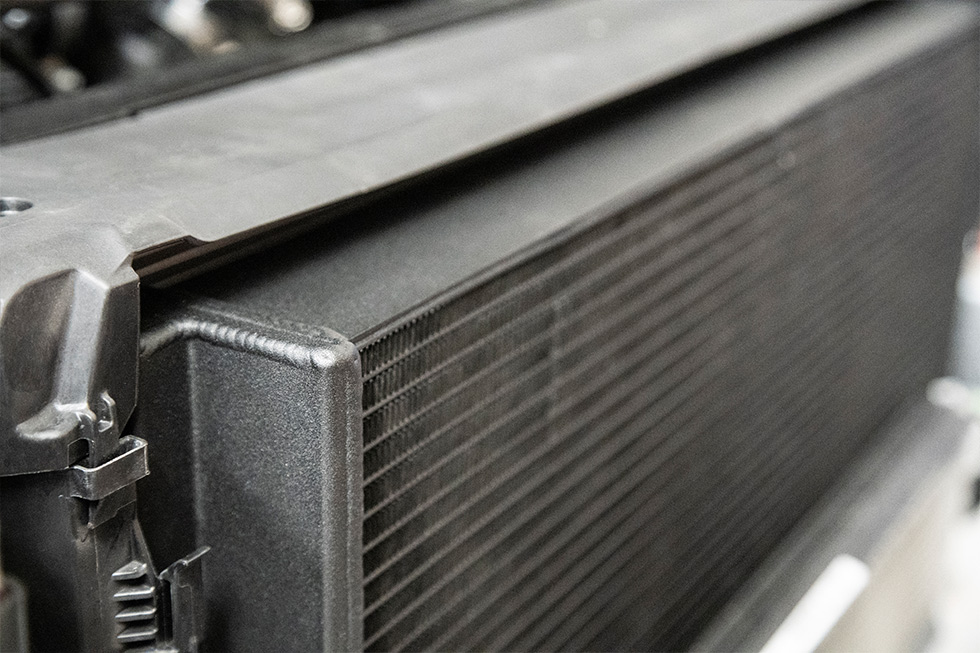 The uniquely developed Forge PolarCooler features:
An increase of over 170% extra capacity using a 18 fpi (fins per inch) louvre super tech cooling core for maximum cooling.
The PolarCooler replaces the OEM chargecooler radiator.
This chargecooler has been designed featuring triple pass water flow to ensure all of the surface area of the core is utilised, meaning maximum cooling efficiency.
This unique design has allowed inlet temperatures to be lowered by 20°C (68°F) in 3 back to back runs on the dyno.
The Forge PolarCooler locates in the OEM position and is supplied with anti-corrosion black powder coat on the hand fabricated end tanks and core or motorsport raw alloy
A reduction of the temperature of the cooling water is directly equated with an improved cooling performance of the charged air.
With an increase in volume of water introduced to the cooling system the thermal temperatures can be kept at a much reduced level over a longer period, ensuring greater performance and efficiency which in turn is perfect for your fast road and track enthusiast. The Forge radiator has a volume of 23 litres compared to the OEM of just 8.3 litres.
Dimensions:
OEM:
500mm x 615mm x 27mm (8.3l)

Forge Polarcooler:
480mm x 600mm x 80mm (23l)
This product is designed, developed and manufactured entirely in Great Britain and is covered by our worldwide lifetime warranty. We estimate that it will take around 4-5 hours to complete installation of this product.

Check your vehicle compatibility: Click here
Please Note:

In line with our policy to constantly review, revise, and improve our product range, the appearance of the product you receive may differ from the one advertised.
Product Reviews
Product Reviews
Be the first to review this product
Want to leave a review?

Login Register FREE!
Compatible Vehicles
Instructions
Toyota Supra A90 and BMW G20/G21 Chargecooler Radiator
Warranty
Warranty Infomation
The majority of Forge Motorsport products come with a limited lifetime warranty (brakes pads excluded). All warranty claims must be accompanied by the original proof of purchase to enable us to help you. Failure to supply this proof will result in your claim or enquiry being denied.
For further information, please call our customer service team on +44(0)1452 380999 or email info@forgemotorsport.co.uk.
Do not use aggressive (acidic) car cleaning products, particularly traffic film remover solutions or shampoos to clean your intercooler, radiator, or oil cooler. The use of these products can damage Forge Motorsport cooling systems and invalidate your warranty. These are often found at car washes. A light, warm, soapy solution (free of harsh acidic cleaning compounds) should be used to clean you cooler and thoroughly rinsed away. We recommend that you should inspect your product on a regular basis for bent and/or crushed fins. Any bent fins should be carefully straightened to allow ambient air to pass through the core face. At the time of installing your Forge radiator, an approved coolant must be used and added to the coolant system. Be sure you never mix coolant and always use distilled water.
This warranty does not apply to any defect in the goods arising from fair wear and tear, wilful damage, accident, negligence by you or any third party, use otherwise than as recommended by the supplier, failure to follow the supplier's instructions, or any alteration or repair carried out without the supplier's approval.
Shipping
Shipping
UK Mainland
Next day delivery applies to orders processed before 2pm Monday to Friday, subject to stock availability and geographical restrictions. 'Next day' refers to next working day. We cannot guarantee next day delivery for orders placed after this time. Full details
Delivery is free of charge for all orders £20 or over. Products are sent by standard DPD service which is usually a next day service, but can take 2 days in transit. We reserve the right to ship smaller, lower value items via Royal Mail or any other service. (Not including Scottish Highlands, Scottish Isles, Northern Ireland, Guernsey, Jersey, and Isle of Man where charges will vary).
Europe and Worldwide
Delivery service charges will vary depending on the quantity of product ordered, the related parcel size, and destination postcode. Live shipping rates will be calculated at checkout using ShippyPro and dependent on criteria, you will be given the option of DHL, DPD, or FedEx courier services.
Shipping into the EU - Duty Charge Information
All Forge products are sold with a Delivery Duty Unpaid (DDU) status and an import tariff may apply to your order. Customers will be contacted by the Customs and Excise authority in the destination country regarding payment prior to delivery, and it is important that correct contact telephone number and email information be submitted with the order to facilitate this part of the delivery process. Some couriers are charging an admin fee for shipping into the EU.
If we detect at checkout that you are located within the European Union (EU), you are eligible for a contribution towards your import duty and tax payments. We can add an additional 20% on the total cost of your order, we will then pay the duty and tax costs above your contribution. This offer will ensure the price you pay at checkout is the total you pay, with no additional charges. It will also ensure you have the fastest possible delivery, with no delays. For more information, please see here

Our shipping methods ensure safe and timely delivery of your new Forge products. For further information on cost and delivery times, please contact Forge using the info@forgemotorsport.co.uk email address if you require any more information. We reserve the right to change the delivery service and company at any time.
Forge Motorsport ships via either UPS, FedEx, DHL (primarily for outside of UK), DPD (primarily for UK), or any other courier we chose. Other shipping options may be available for an additional fee over and above the actual shipping costs. Once a product has left our warehouse and is in the possession of the shipping company, any claims must be made directly with that shipper however we can assist with most cases.