Harboring a deep-seated nostalgia for the car scene of old is all well and good, but if you take off the rose-tinted glasses for even a brief moment and have a proper look at the current scene, then you'll realise that, as British car folk, we've never had it so good! The levels of performance available to pretty much anyone and everyone really are nothing short of astonishing, especially if you're willing to consider a hot hatch from the turn of the century.
To prove just how good we currently have it (perhaps better than we've ever had it in fact), we've put together a top 10 of the biggest performance bargains currently for sale in the UK. Examples of all 10 of the cars listed here can be bought right now for just £5000 (trust us – we spent far, far too long perusing the classifieds while writing this), a budget we felt was realistic for many looking to treat themselves to a modern (ish), high performance offering. We've also added a key component from the Forge Motorsport range that you'd be mad not to fit to help the car in question reach its full potential.
Ford Focus ST 225
Rarely have the levels of performance currently available been thrown into focus quite as sharply as with fast Fords, especially those models made in the middle of the last decade. OK so the likes of the Mk2 Ford Focus RS aren't (and almost certainly will never be) within our self-imposed budget, but its little brother, the ST, most certainly is. The sheer number of these cars currently on our roads might have served to dull their ability to draw attention but that won't always be the case, with the five-pot ST all but certain to go down in fast Ford folklore as a key car – grab one for relative buttons while you still can, they won't always be this affordable or plentiful.
In terms of which Forge parts to fit, the world (or rather our range) is your oyster. There are all manner of ST parts to pick from but we'd be tempted to start with one of the most popular, one which will enable you to extract more performance from that bellowing Volvo engine, a turbo actuator. https://www.forgemotorsport.co.uk/Turbo_Actuator_for_Ford_Focus_ST--product--91.html
VW Golf Mk5 GTI
Remember how massive the Mk5 Golf GTI was when it was launched over a decade ago? We do, largely as it was a quantum leap over its predecessor and the first truly 2st century GTI-badged VW. The fact that there are so, so many of them blatting their way around the UK's roads rather proves both their popularity and their longevity, and they have been proven to make impressively high power figures with the correct modifications.
Speaking of Mk5 modifications, we're well placed to help, with an array of go-faster bits covering pretty much every aspect of the car. We've opted to showcase our Twintake induction kit here though, one of the best of its kind on the market and one proven to enable power gains of up to 17bhp. https://www.forgemotorsport.co.uk/Twintake_Induction_Kit_for_Golf_Mk5_Gti_Air_filter_originally_incorporated_in_engine_cover--product--1061.html
Vauxhall Corsa VXR
It's probably fair to say that it took Vauxhall quite a while to come up with a Ford rivaling hot hatch, but when there's no denying that when they did finally crack the formula with the Corsa D VXR in the mid noughties, they did it with some style! A key model within the UK's massive modified Vauxhall community, early examples of the Corsa VXR can now be had for as little as £5000, meaning it just about squeaks in under our self-imposed budget.
We can supply an array of parts for the baby VXR and can help make its Z16LEH engine produce some truly massive numbers, but we've opted to focus on something a little more real world but no less important, our own sub-frame brace. It's a far, far more capable bit of kit than the OEM Vauxhall part. https://www.forgemotorsport.co.uk/Subframe_Brace_for_Vauxhall_Corsa_D_Models_including_VXR--product--867.html


Mini Cooper R50/R53
It might be getting on in years and the task of finding a decent example harder than it once was, but we think that there's still much to recommend about the original 'new' Mini, specifically the Cooper S R53. Keen handling, great styling and punchy, supercharged performance were part of the standard package and helped Mini to sell hundreds of thousands of Coopers, with the range-topping S (JCW excluded) still having the power to excite to this day.
Forge Motorsport has long catered for BMW Minis and their owners' desire for greater performance, hence why we were one of the first UK tuners to unveil a dedicated aftermarket intercooler for the model, something we did back in 2005! https://www.forgemotorsport.co.uk/Mini_Cooper_S_Upgraded_Air_To_Air_Intercooler--product--734.html
Audi TT Mk1
Few cars made as much of an impact about all quarters of the motoring press as the original Audi TT. Audi's pretty coupe won plaudits and design awards thanks to its curvaceous styling, while the range of performance variants included both 1.8T and 3.2 V6 versions, both of which proved to be as tunable as they are popular. One problem with the 1.8T cars was oil – or a lack of it, rather. Under extreme acceleration, braking or cornering, the oil can momentarily run away from the oil pump pickup under centrifugal force, causing a temporary starvation through the oil-ways, putting critical bearings and bores at risk of damage.
Luckily for anyone considering investing in a 20v Mk1 TT, we at Forge Motorsport long ago developed a complete, fit and forget solution to this potentially ruinous problem though, a baffled alloy sump that can be fitted to all transversely mounted 1.8T engines. It's based around a brand new OE-spec sump pan and features carefully configured baffles and Viton oil control valves. These work together to ensure that oil lubricant can move around the engine unimpeded, all while retaining a minimum sump capacity at all times and in all driving conditions. https://www.forgemotorsport.co.uk/Baffled_Sump_for_Audi_VW_and_SEAT_18T_Transverse_Engines--product--1019.html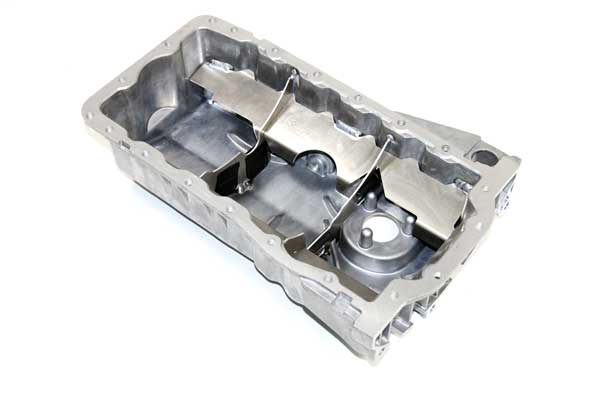 Renault Megane 225/230
Fancy a Gallic flavour to your hot hatch? Then you could do much worse than the Mk3 Renault Megane, specifically the 225/230 versions, both of which can be had for well under our imaginary £5000 budget. OK so that might not be a great deal of power to shout about nowadays, not now that the likes of Mercedes, Audi and Ford will sell you hot hatches with four-wheel drive and very nearly 400bhp, but they'll also demand an eye-wateringly high sum...we'd take the bargain-ous Renault!
Just because you've plumped for an older hot hatch doesn't mean you have to settle for old levels of performance, not when the Forge Motorsport range has you and your Megane so well covered, with this intercooler kit being a good example. Developed specifically for the Megane, this FMIC fits simply and promises to deliver an impressive reduction in inlet temperatures, in turn allowing the Megane to make more power while also making further tuning a far easier (and safer) proposition. It's supplied with everything required to for a simple installation, while its size means that it will look right at home peeking from behind the Renault's angular bumper.
https://www.forgemotorsport.co.uk/Renault_Megane_225230_Front_Mounted_Intercooler_Kit--product--725.html

Subaru Impreza
We're not going to pretend that you'll be tripping over 'classic' GC8 shape Imprezas for £5000 – those days are long gone, sadly. You can still grab yourself a slice of rally-bred excellence though, it just has to be a more recent, bug-eye, blob-eye or hawk-eye model, all three of which enjoyed successful rally careers before Subaru quit the WRC in 2008.
The Impreza is well covered by the Forge range so actually picking just the one part to include here proved rather tricky, though we have eventually plumped for an offering we're perhaps best known for, a stunning, UK-made header tank. https://www.
Saab 900 (B204 engine)
It's something of an open-secret that late '90s and early '00s Saab Turbos are incredibly over-engineered and are thus able to make (and sustain) massive boost and levels of power, with much of this being down to the excellent H-series engines, specifically the B204. Beloved by both Saab and Vauxhall tuners up and down the country, the B204 has recently found itself slung into everything from Astras to Mantas, proof that it has been well and truly embraced by the UK tuning faithful.
Our replacement piston turbo actuator is the obvious Forge upgrade to include here, especially as it can be effectively 'tuned' with various different springs.https://www.forgemotorsport.co.uk/Replacement_Piston_Turbo_Actuator_for_the_Saab_900--product--114.html
Vauxhall Astra VXR (H)
Another performance Vauxhall and another GM offering which proved able to take the fight to FoMoCo's finest, the Mk5 Astra (H) VXR has now fallen within our self-imposed budget, though (as ever with an older performance model) it pays to buy carefully and to bide your time. Weak M32 six-speed gearbox aside, the original Astra VXR has proved a popular car amongst tuners and owners, with various packages available to help its Z20LEH four-pot to 500bhp+ if you so desire.
Our Front Mounted Intercooler package makes a superb addition to any Astra VXR, especially if you're planning on wringing extra power from it, and also contains everything required for a swift and straightforward installation process. https://www.forgemotorsport.co.uk/Front_Mounting_Intercooler_Kit_for_the_Vauxhall_Astra_VXR--product--688.html


VW Polo/Skoda Fabia VRS/ Mk4 SEAT Ibiza
We're not going to overlook the smaller cars in the VW Group family, especially as they continue to be among the most popular candidates for the modified car treatment. We can supply all manner of go-faster parts for the likes of the Fabia, Polo and Ibiza but today we thought we'd go for something real world, albeit a part that's proven to make a massive difference to the manner in which the car in question drives – a rear strut-brace. It effectively links the two rear struts together, providing increased lateral strength and improved handling. It's made from polished alloy to keep weight down, utilises a locking pre-tensioner and has been designed to be easy to install. https://www.forgemotorsport.co.uk/Rear_Strut_Brace_for_SEAT_Ibiza_MK4_Skoda_Fabia_and_VW_Polo--product--1236.html